Laser treatments have revolutionized the aesthetics industry, making it possible to smooth fine lines and wrinkles without surgery. In fact, these treatments can prevent the need for ever having plastic surgery.
At Natural Foundations, we use three state-of-the-art devices for wrinkle treatment.
Regenlite Laser for Wrinkle Treatment
By stimulating your body to produce more collagen, the versatile Regenlite laser is an exciting non-surgical treatment for facial wrinkles. It is gentle and non-ablative, so it doesn't burn the skin and doesn't require any downtime. What's more, as the collagen and elastic are produced, the anti-aging effects will continue over a period of months after your treatment.
Regenlite treatments are simple. Wearing protective glasses, the operator moves the SmartPulse hand piece slowly over the eye area. You will also wear protective eyewear to protect you from the light of the laser. During your treatment, the hand piece is held close to your skin, but it is not painful. Most patients report a slight warming sensation.
Your treatment should take no longer than 30-45 minutes. No recovery period is required after a Regenlite procedure. You might experience some slight bruising in the treated areas for a day or two, but otherwise, there are no side effects.
Most people require a series of treatments every other week for optimal wrinkle removal.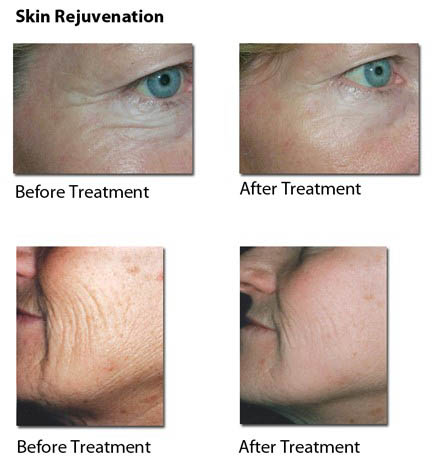 Venus Legacy for Wrinkle Treatment
Venus Legacy is a treatment that uses radiofrequency and pulsed magnetic fields to tighten the skin and reduce wrinkles. Gentle heat causes the skin to safely contract and tighten. The result? You look younger quickly with little discomfort and no downtime.
The Venus Legacy combines VariPulse™ technology with 3D™ MP2 energy to give you a deeper treatment that stimulates circulation and immediately plumps your skin to reduce lines and wrinkles.
Most patients require about 6 treatments on the face once a week, and you can expect to see some results after the third treatment. Each appointment should take less than a half hour.
Venus Legacy is not painful. It merely feels like a hot pulsing massage on the face. Most patients experience facial redness for about an hour after the treatment.
The results have been shown to last 18 months or longer, and they can be maintained if treatments are done quarterly.
Microcurrent for Wrinkle Treatment
Microcurrent treatment is another non-invasive method that tightens the skin and smooths wrinkles through gentle electrical stimulation. It actually "reeducates" the fine facial muscles and promotes collagen and elastin production, while also increasing blood circulation and cell regeneration, for an overall more youthful look.
A tiny electrical current is administered through two Q-tipped probes and applied to the wrinkles to improve muscle tone. In the process, no harm is done to the skin, so all you will feel is a gentle tingle.
A series of treatments are usually required over a period of months. Your treatments will take 60-75 minutes, and you will begin to see results after the very first appointment. Thereafter, booster treatments every few weeks (which take a shorter time) are necessary to maintain your results.
Call us today to schedule an appointment for wrinkle treatment.