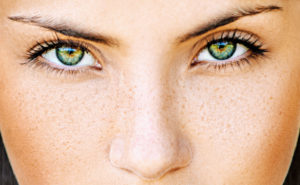 What do your eyes say about you? Do they make you look tired, exhausted, or worn out? Drooping eyelids are a common sign of aging and can make you look older or tired. The solution is simple: an eyelid lift. We offer non-surgical eyelid lift treatments for subtle lift without incisions.
What Is a Non-Surgical Eyelid Lift?
A non-surgical eyelid lift is a cosmetic procedure that can lift sagging eyelid skin without incisions. We offer eyelid lifting using the Regenlite Laser or Microcurrent treatment. These treatments can lift and tighten and bring your eyes out of hiding. Wake up your face with a non-surgical eyelid lift.
The treatments work by stimulating collagen and elastin production, substances that naturally decrease with age. You'll see continued improvement over the course of a few months with results that continue to last long after treatment
Regenlite Laser
The Regenlite Laser is one of our favorite treatments for eyelid lifting. This treatment promotes collagen and elastin production which subtly lifts the upper eyelid. Patients typically need 3 treatments (1 given every other week) for optimal results. The treatment is painless and lasts about 30-45 minutes. No recovery period is needed although some patients feel a bit of tenderness around the treatment area for a couple of days.
During treatment you'll wear protective eyewear while a specialized device is passed over the eye area. Most patients feel a warming sensation during treatment.
Microcurrent Treatment
Another great treatment for eyelid lifting is microcurrent treatment. This treatment uses electrical stimulation to promote collagen and elastin production. It also increases blood circulation and cell regeneration. Patients typically need a series of 12-20 treatments spaced over a period of months. Each treatment takes just over an hour. You'll see results after that first treatment! Over time and with the right number of treatments your muscles are retrained.
During the procedure small q-tipped probes are applied to the eyelid to improve their tone. You'll feel a gentle tingle. No recovery period is needed after treatment.
If your beautiful eyes are hidden behind your eyelids, come see us for eyelid lifting treatments. Call us today and schedule your appointment.