You want to look younger, but you don't have time for surgery. Is a non-surgical facelift possible? Many of our patients are surprised when we tell them about our non-surgical facelift. These treatments work amazingly well,. If you're seeing the signs of aging in your face, come see us. We can make a difference… without surgery.
What Are My Options for a Non-Surgical Facelift at Natural Foundations Wellness & Aesthetics?
We two different devices to provide non-surgical facelifts to our patients: Microcurrent Non-Surgical Face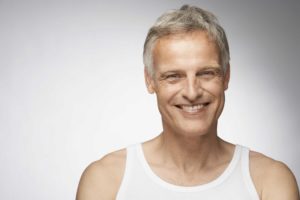 lift and Venus Legacy Non-Surgical Facelift. Let's learn a bit about each of these rejuvenating treatments below.
Microcurrent Non-Surgical Facelift
Microcurrent treatments retrain your facial muscles for a more youthful look. Two Q-tipped probes are placed on specific points of the face to improve muscle tone and smooth the skin. This treatment also boosts circulation and promotes cell regeneration. Best of all, you'll see results after your first treatment with results that continue to improve for months. We start patients with a series of initial treatments (take 60-75 minutes each) and you can maintain your results with short boost treatments every few weeks.
Venus Legacy Non-Surgical Facelift
The Venus Legacy non-surgical facelift uses radiofrequency to smooth lines and wrinkles away and tighten loose skin. This treatment works best when performed early. If you start before significant signs of aging appear, you may be able to avoid surgical rejuvenation procedures in the future. We typically recommend 6 treatments to start (performed once a week, take about 30 minutes). Once the initial treatments are complete, your results can be maintained with quarterly treatments. This treatment is not painful and requires no downtime.
The Advantages of a Non-Surgical Facelift
There are many reasons to consider a non-surgical facelift, the most obvious being rejuvenation without the hassle and pain of surgery. Here are a few other reasons to consider these treatments.
Tighten Skin
Fade Wrinkles
Look Younger
Avoid More Invasive Procedures in the Future
Restore Confidence
If you want to look younger today without surgery, call and ask us about our non-surgical facelift.