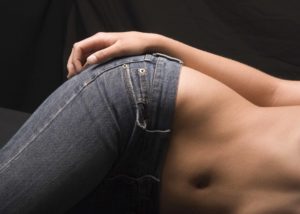 Cellulite? Loose skin? You have options. Non-surgical skin tightening treatments can tighten up and smooth your skin for a more attractive appearance. Call us today to learn more about your options. Get treatment now and next summer, you'll be sporting that bikini with pride!
What Skin Tightening Treatments Are Available?
We offer a variety of skin tightening treatments here at Natural Foundations Wellness & Aesthetics. They are all non-surgical and require no downtime after treatment.
Venus Legacy Skin Tightening: The Venus Legacy uses radiofrequency and pulsed magnetic fields to tighten the skin. Heat causes the skin to contract and tighten as the treatment stimulates circulation. You'll see fewer wrinkles and firmer skin. Most patients need a series of initial treatments (take about 30 minutes per treatment) with quarterly maintenance treatments. This is a great option for tightening skin on the face or body.
Venus Viva Skin Tightening: The Venus Viva is a fractional laser that only targets damaged skin for quicker recovery and healing. It can be used on the face or body. Most patients receive treatments every two weeks until optimal results are achieved. This treatment makes you more prone to sunburn; make sure you use sunscreen when you're out in the sun.
Microcurrent Skin Tightening: Microcurrent treatments tighten through electrical stimulation. This promotes collagen and elastin production, increases blood circulation and promotes cellular regeneration. You'll see continued improvement for several months after treatment. You'll need an initial series of treatments (60-75 minutes each) with booster appointments (require less time) every few weeks to maintain your results.
Regenlite Laser: Great for tightening skin on the face or body, the Regenlite Laser tightens the skin by stimulating collagen and elastin production. As your collagen and elastin levels increase, you'll see continued improvement for several months after treatment. Treatment takes about 30-45 minutes.
Jet Peel Skin Tightening: Unclog pores, exfoliate and tighten facial skin with our Jet Peel Skin Tightening treatment. This device delivers crucial nutrients, oxygen and water to the skin at supersonic speeds for a refreshed and invigorated appearance and tighter skin.
Which Skin Tightening Treatment Is Right for Me?
With so many skin tightening treatments available, how do you choose? Come on in and we'll help you decide which treatment will be most beneficial. We'll choose the right treatment for you based on your desired treatment area and treatment goals. Call us today and schedule your appointment.